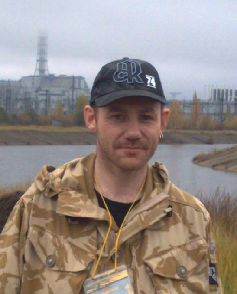 Malcolm Garry Taylor
Introduction
Malcolms main work experience comes from an IT background, having worked for a number of different IT companies in the UK since leaving school. With a large technical ability and knowledge on a variety of operating systems, he also has experience writing procedures and documentation for IT projects and processes. A 3 month venture to Belarus in early 2010 saw Malcolm gain experience as a native English teacher. He taught students conversational English of varying levels, as well as professional courses. He went back to Belarus in 2011 and continued teaching for the 3 months his visa would allow. Past work experience has also included being trained as a Bar Manager for Scottish and Newcastle, including accounting, ordering, food preparation, health and safety, and promotion.
Key Assets
Team Player
One of the main roles of a Unix Systems Administrator is the ability to work within a team. This is critical in ensuring High Availability of critical systems, enhancing team development, as well as maximising efficiency and productivity of the whole team
Good Communicator
Ensuring good communication between team members, management, and external customers or clients is one of my most valuable traits. I am active in promoting this often forgotten skill to the people I work with.
Innovative
Being able to adapt to changes in technology requires an innovative mind. It has helped guide me to improve and develop the systems I have worked on many times.
Hardworking
I have always been willing to go the extra mile in order to achieve either the company I have been working for, or my own personal goals in order to succeed.
Logical and Structured Approach
A Systems Administrator role was the obvious career choice for me since an early age. My logic approach, attention to detail, troubleshooting skills, and willingness to follow correct Change Control procedures, have earned me praise and recognition at every organisation or customer I have worked for.
Ability to work under pressure
A level head, a considered approach, and the ability to work under pressure, are essential assets every Systems Administrator should have. During the 25+ years I have worked, i have supported Business Critical systems for the UK Ministry of Defence, Cosmos Holidays core online booking system, William Hill online gambling website to name a few. All of these have required fast resolutions to situations which could have incurred large financial losses. I can honestly say that alongside the teams I have worked with, that system availability has always been maintained with the absolute minimum of downtime.
Work Experience
2010-present Freelance Unix Administrator
I have provided System Administration, Development, Deployment, and Integration services for a variety of companies in USA, UK, EU, and Asia. These range from scripting solutions to company specific problems, to deploying new infrastructure and servers using secure and best practices to improve performance or capacity issues. My development skills have also enabled me to write customised solutions that meet my clients requirements.
March 2012-present ITDC – Tbilisi, Georgia
A step into the unknown for both ITDC and for me as well. ITDC is a development company in Georgia. It has developed the most popular websites in Georgia (myvideo.ge, news.ge) and supports and hosts 300+ more. It has contracts with multiple businesses, the Georgian government, and others outside Georgian territory as well. With over 200 servers mainly based on Centos linux operating system across multiple datacentres in Europe, my role as a Unix Systems Administrator is to join an expanding team to enhance the support for clients based on my past experience, and help develop ITDC into a bigger international development company.
June 2010-February 2012 AMELCO UK LTD – London, UK
Following on from his 3 month trip abroad in 2010, I was taken on board at Amelco as a Unix administrator with extensive experience in automation and streamlining operations. In the last year I have proven that, and made the migration to an enhanced interface system a lot smoother. Having also trained some other junior members of the support team the core unix skills they needed in order to support the systems in place. I also provided on-call 2nd/3rd line remote support as and when required, as well as performing system upgrades to the applications. This includes remote working for extended periods while I was travelling around Europe.
February 2010-May 2010 STREAMLINE – Minsk, BELARUS
I took on my first official teaching job with Streamline after moving to Belarus. This was on an evaluation basis until my work visa was approved when I would be taken on full time. The majority of my classes have involved teaching Upper Intermediate Business English to students from a large corporate client. I have also had experience teaching conversational English to a large number of students. This involved class tuition as well as group work to enable the students to get as much practical experience using the language with the guidance to assist in helping them with any grammatical or vocabulary problems they had.
2005-2010 HEWLETT PACKARD – Gosport, Hampshire, UK
As a Senior Unix Administrator, I was responsible for ensuring a team of 8 Unix Administrators carried out their support role on a Ministry of Defence contract. The team supported approximately 120 HPUX servers including 4 Superdomes running HPUX 11iv3. The environment was split between 2 sites in the UK, which provided multiple environments including Production, DR, Training and Development.
2000-2005 THOMSON LOCAL – Farnborough, Hampshire, UK
Senior Unix administrator on HPUX and Sun Solaris servers. These servers provided an online web search engine for companies and services in the UK. Thomson Local is the 2nd largest online directory of UK businesses. I was also responsible for writing the appropriate documentation, maintaining and testing the corporate Disaster Recovery solution, which included the relocation of personnel from the main site to standby site, ensuring all network connectivity and hardware was functional, and coordinating the cutover itself.
1991-2000 COSMOS HOLIDAYS – Bromley, Kent, UK
I started at Cosmos Holidays as a Computer Operator, but progressed to the Technical Support team supporting 2 x ICL Series 39 mainframes. I formed part of the project team to write a new online booking system on a HPUX platform with Unixware front end. This involved writing all of the batch processes to produce airline tickets, hotel manifests, as well as internal management reports. I was also on the project team for designing, implementing, and testing the corporate Disaster Recovery solution. During this time at Cosmos Holidays, we had 1 invocation of the Disaster Recovery solution which proved successful, and was implemented ahead of the scheduled deadline
1989-1991 NMW Computers (London Stock Exchange) – London, UK
My first job was at the London Stock Exchange as a computer operator on an ICL Series 39 mainframe. My main tasks included running schedule
About Me
Malcolm is from the UK, born in Croydon on the outskirts of London, spending his early childhood in Scotland. His family moved back to London in 1980 where Malcolm completed his school education and took his GCSE exams. His work career has seen him learn a vast amount in the Unix Administration field, as well as an in-depth knowledge of networking, operations, project management, web design and management. He has worked on various flavours of Unix including Centos, HPUX (Hewlett Packard), Sun Solaris, Unixware, SCO, AIX, DRSNX and more.
Malcolm is also a Project Manager, having managed everything from IT technical projects, to office moves. All of these involved ensuring customer satisfaction.
Most recently during his 2010 and 2011 travels around Europe, his time in Belarus was spent on an assessment as an academic English Teacher, where he taught classes of various levels for a variety of corporate customers. While doing that he was teaching conversation English as a native english speaker for the same company.
CentOS 5,6,7
Unix Administrator
HPUX 11.31, 11.11, 11.00
Unix Administrator
Sun Solaris 5, 8, 9
Unix Administrator
Unixware 7
Unix Administrator
Drs/nx (ICL unix operating system)
Unix Administrator
Bash Shell Script
Bash and Korn Shell script writer
HTML and web design
Basic HTML and web design
PHP
Functional procedural PHP development
Project Management
Have project managed and implemented various projects for the various companies I have worked for.
Laravel Development
Basic development and understanding of the Laravel Framework